RHYS LEE ON JUXTAPOZ 'ART IN UNCERTAIN TIMES: RHYS LEE REPORTS FROM DOWN UNDER' BY SASHA BOGOJEV
Art In Uncertain Times: Rhys Lee Reports From Down Under
Continuing our mission to check with friends and favorite artists around the globe, we virtually traveled all the way to Victoria, Australia, to check on what's happening with Rhys Lee. Based in a small coastal town located southwest of Melbourne, the artist is a whirl of activity as he intensively works on new paintings.
"It's pretty much business as usual in the studio," Lee kicks off his report from Down Under. "My studio is in my backyard so I'm lucky there is no travel involved." Like many artists we spoke too, it feels like the global pandemic isn't affecting his routine all that much. Although, there is a significant difference between everyday life, and the current situation, "Having the kids around all day every day has been the biggest difference."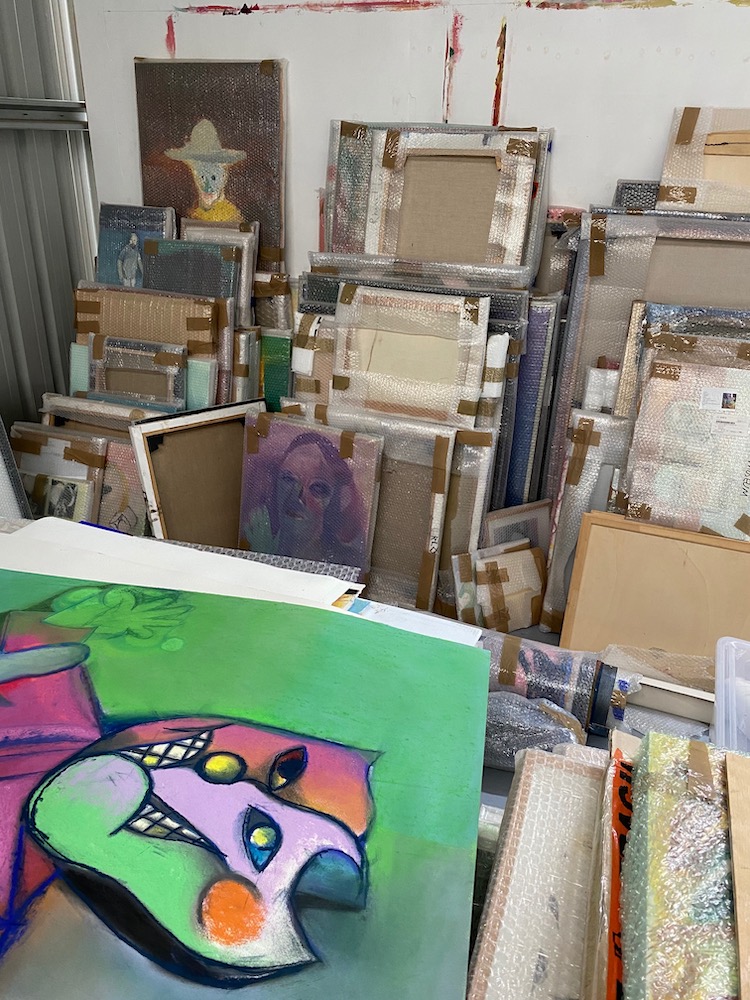 "Homeschooling and extra activities take some time. It definitely feels like we've all spent quality time together without major blowouts yet, hahaha," he tells us about his days. In between domestic chores,  Lee is able to hop to his studio and work on his labor-intensive, texture-rich and color-intense paintings. Quite formal and classic in terms of subject, they feature a traditional format made through the prism of raw abstract figuration. Extraordinarily hues and gradients, a panoply of line work, as well as unexpected textures, are rendered by allowing  paint and  tools to dictate the route and final outcome. By purposely pushing his creative process too far, sometimes destroying the original concept in order to allow a new one to emerge, the works proudly bear their scars and bruises, revealing different stages of development.
The result of such practice can be seen throughout the studio where paintings at  different stages of completion pervade the space amid stacks of studies on paper. Grateful to be able to continue his practice, Lee  looks at the bigger picture of the crises with a positive attitude, "Hopefully, this slower, quieter time helps us all reevaluate and work out what's important & what we need." —Sasha Bogojev
At we post this story, Rhys Lee is having plans for art fairs and group shows in Melbourne and Amsterdam in June.